Overview
This consultation is seeking feedback on the proposed closure of Hospital Level Crossing, which has to close on safety grounds prior to the introduction of faster and more frequent passenger trains. The consultation is being undertaken jointly by Northumberland County Council and Network Rail as part of the proposals for the Northumberland Line project.
An introduction to the Northumberland Line and Hospital Level Crossing is below. To read about and have your say on the proposals, click on the 'Online Survey' button at the bottom of this page.
What is the Northumberland Line?
The Northumberland Line will bring passenger trains back into service between Ashington and Newcastle. It is a priority of both Northumberland County Council and is supported by a number of key project partners, including the Department for Transport (DfT), Network Rail, Transport for the North (TfN), Nexus and Northern Trains Limited, North Tyneside Council, North of Tyne Combined Authority and Newcastle City Council.
The Northumberland Line aims to stimulate and support economic growth, regeneration and community development in Northumberland and the surrounding regions by providing new and improved transport links for local people and businesses. By doing so, the scheme will:
improve access from towns such as Ashington and Blyth to employment hubs like Newcastle, as well as opening up new opportunities for education and travel;
provide a real incentive for potential employers to relocate to and invest in the area;
provide vital infrastructure to help deliver the region's aspirations for population and economic growth;
help to attract visitors and improve local tourism;
enhance public transport connectivity within and beyond the region;
help to reduce congestion and improve air quality on key corridors by moving people away from car travel and onto public transport; and
support the delivery of significant growth in sectors such as renewable energy, offshore oil and gas and engineering.
The project will provide six new stations at Ashington, Blyth Bebside, Bedlington, Newsham, Seaton Delaval and Northumberland Park, with journeys between Newcastle and Ashington taking about 35 minutes with no need to change trains. The station at Northumberland Park will be adjacent to the existing Tyne and Wear Metro station, bringing further opportunities for interchange and travel to other destinations, including on the Metro. We are exploring options for integrated ticketing between the two services.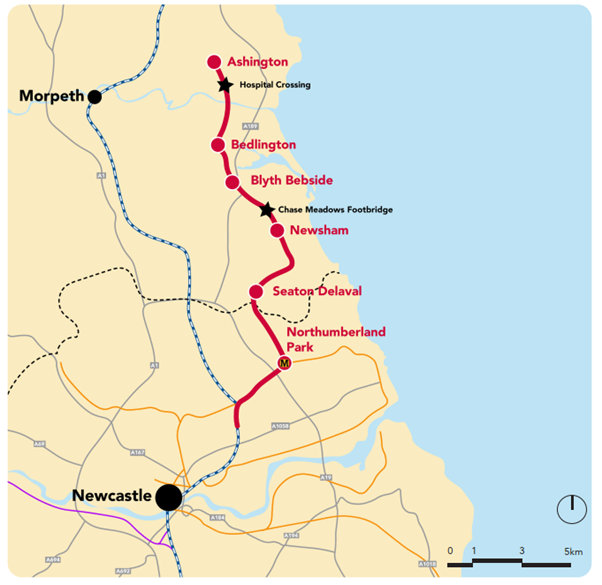 Map of the Northumberland Line
At Newcastle station it is anticipated that Northumberland Line trains will run into platform one, with easy access to the city centre, Tyne and Wear Metro and national rail connections.
The freight trains that currently use the railway will still be able to do so, helping support the economic aspirations of both Lynemouth Power Station and the Port of Blyth.
Where is Hospital Level Crossing?
Hospital Level Crossing is located near the former Ashington Station and carries a recorded public footpath. It connects Chillingham Crescent on the west to Roseneath Court on the east and can be accessed via concrete ramps on the railway embankments. At present, there are no barriers or lights to indicate when it is safe to cross. Users are responsible for their own safety and must 'stop, look and listen' for an approaching train and judge whether is it safe to cross.
The level crossing was provided to accommodate a footpath when the railway was first constructed over 150 years ago, when the surrounding area was countryside. It was named "Hospital Level Crossing" due to the proximity of the hospital that used to stand to the east of the railway, and has continued to be called this despite the fact the hospital no longer exists.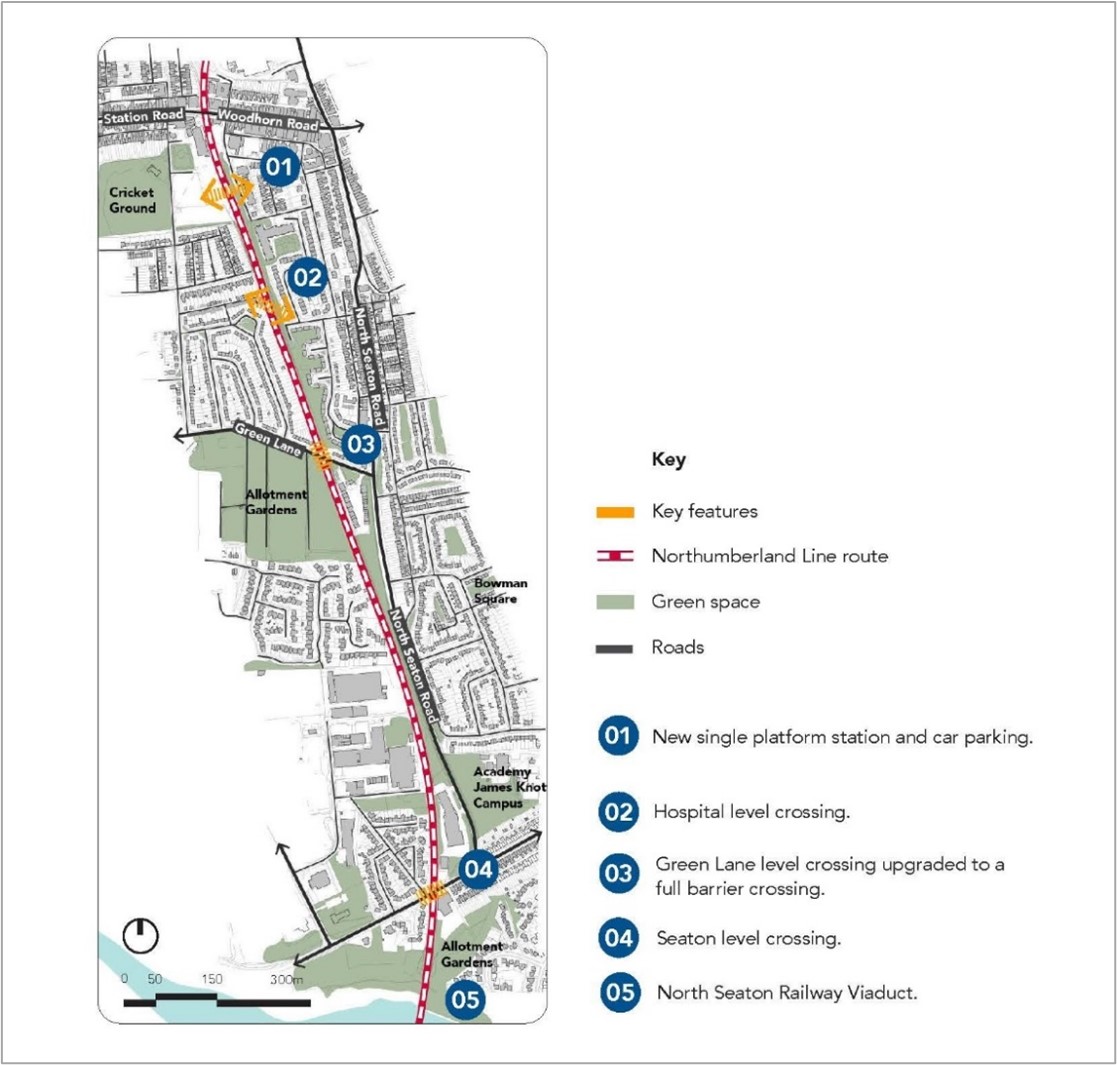 View of the crossing looking west  
Why does it need to be closed?
Once the passenger service on the Northumberland Line starts operation, the risks to users of the existing crossing will become too great to keep it open. This is due to:
increased train frequency;

increased train speeds; and

the high number of daily users (more than 500 a day), including vulnerable people and unaccompanied children.
Background to the proposed closure
The closure of the crossing, and potential alternatives for crossing the railway, have been under consideration since 2018. Key activities since 2019 are summarised in the table below.
Date

Action

September and October 2019

Consultation for the wider Northumberland Line project took place.

November and December 2020

May 2021

An application for a Transport and Works Act Order (TWAO) was made to the Secretary of State. Amongst other matters, this sought authorisation for the closure of the existing level crossing and the diversion of the existing public right of way through a new underpass.

September 2021

A planning application was submitted for a new underpass to replace Hospital Level Crossing.

Significant objections were received in response to the TWAO and planning applications, with many local residents concerned about anti-social behaviour associated with the proposed underpass.

In response to these objections it was agreed that options for Hospital Level Crossing would be revisited before deciding whether or not to progress with the underpass proposals. This consultation is a key part of that process.
Why your views matter
Options we are consulting on
The footpath over the level crossing is a public right of way and cannot be permanently closed without obtaining legal powers to do so. There are two ways of doing this.
The crossing is closed with no replacement, so that users need to use alternative routes along existing roads and footpaths. This is known as an extinguishment.
The crossing is closed with a new alternative route created, known as a diversion. A diversion will require the building of either a bridge over, or an underpass (subway) under the railway. 
Based on the work carried out to date, there are four possible options.
Closure with no replacement.
Stepped footbridge close to existing crossing.
Ramped footbridge close to existing crossing.
Underpass close to existing crossing.
Our preferred solution is closure with no replacement. This preference takes into account the views expressed by local residents and other stakeholders at the recent Inquiry into the TWAO application and in response to the planning application for an underpass. However, we would like to understand views on all of the options before deciding which to pursue.
Therefore, this consultation is seeking feedback on the intended closure of Hospital Level Crossing, and the following sections take you through our considerations for each of the options noted above. Click on the 'Online Survey' button below to progress through them and complete our feedback form. 
You are also invited to attend a drop in session on Tuesday 17 May 2022 at YMCA Northumberland, North View, NE63 9XQ, between 2pm and 7:30pm.
The consultation closes at 11.59pm on 31 May 2022.