Closure with no replacement
This option would see the level crossing closed permanently, with users being required to use one of the existing alternative routes.
Options currently available as alternative routes include:
Green Lane level crossing, 330 metres to the south of the current crossing location; and

Station Road bridge, 425 metres to the north of the current crossing location.
Using these alternatives will increase walking time for any existing users of the crossing whose route starts, and/or finishes, in the locality of Hospital Level Crossing.
Key considerations for this option are summarised in the table below.
Closure
Less impact on local residents who live near the crossing, who have previously raised concerns about anti-social behaviour at the crossing. Northumbria Police have shared similar concerns.
No construction works, meaning less disruption for local residents.
Longer walking distance and journey times, particularly for less mobile users.
Considerably less expensive than all other options.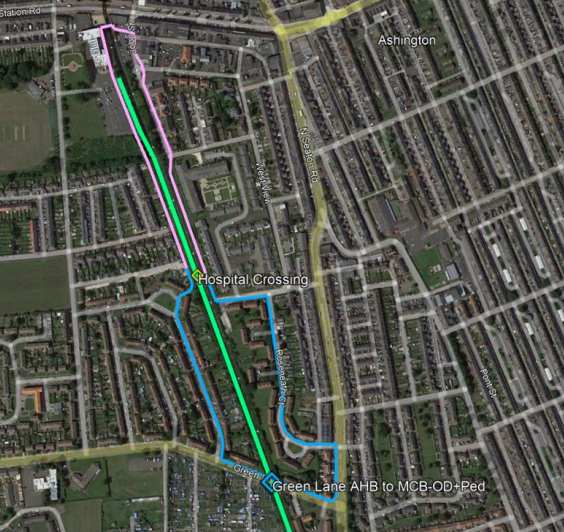 Diversion routes from Hospital Level Crossing. The pink line shows diversion via Station Road Bridge and the blue diversion via Green Lane level crossing. Green shows the railway line.